Le Liner Brush
Create nail art at home like a pro! The right nail art brush makes all the difference. Our nail art brushes are easy to hold and control with high quality synthetic bristles for a smooth glide when creating designs.
Le Liner Brush is perfect for lines, fluid curves, animal print, and marble nail art.
A long, flexible nail art brush for perfect lines, fluid curves and fun designs such as marble art and zebra prints.
Use the easy-grip handle featuring a marble design to create striping and geometric shapes with flawless accuracy.
Includes a protective cap. Clean brush thoroughly after each use.
DIMENSIONS: 22 x 4.4 x 1 cm
HOW TO USE:
Dip the brush into polish. The amount of polish added to the brush will depend on the width and length of the lines you wish to create. Gently apply pressure while stroking across nail to create desired design.
HOW TO CLEAN:
Dip the brush bristles in acetone or alcohol and swish for 10-20 seconds. Blot dry with a paper towel or lint-free cotton pad. You can also use an acetone-soaked pad, like the ones in our remover wraps, to wipe the brush clean. Let dry and replace the protective cap until next use.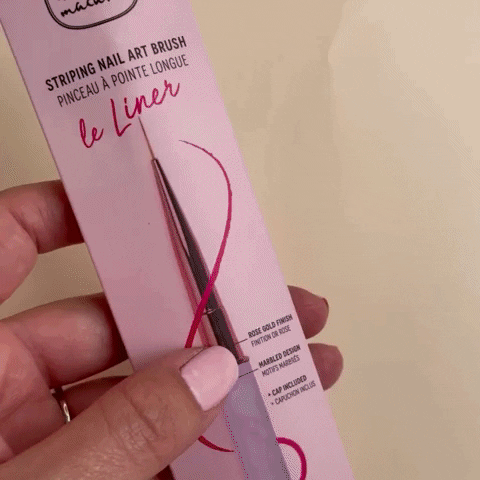 Elegante e maneggevole
Una vera chicca! Preciso e piacevole da usare per la comodità dell'impugnatura. Consigliato
Me encanta
Esta pincel es perfecto para hacer la manicura francesa y otros detalles.
Pincel fino
Un pincel realmente fino (por fin) que se diferencia bien de los que ya tenía. Deseando estrenarlo!
Spectacular brush!
A super-easy way to make french nails! easy to use and very thin! worth it!!!!
Wow
Ideale per realizzare una french manicure perfetta! Effetto wow assicurato!!