Le Petit Brush
Create nail art at home like a pro! The right nail art brush makes all the difference. Our nail art brushes are easy to hold and control with high quality synthetic bristles for a smooth glide when creating designs.
Le Petit Brush is perfect for fine lines, dots, florals, and intricate, freehand artwork.
A flexible nail art brush, perfect for creating delicate details such as fine lines & dots; florals; and intricate, freehand artwork.
With an easy-grip handle featuring a gorgeous marble design.
Includes a protective cap. Clean brush thoroughly after each use.
DIMENSIONS: 22 x 4.4 x 1 cm
HOW TO USE:
Dip the brush into polish. The amount of polish added to the brush will depend on how thick you wish your dots or lines to be. Gently apply pressure with brush to nail to create desired design.
HOW TO CLEAN:
Dip the brush bristles in acetone or alcohol and swish for 10-20 seconds. Blot dry with a paper towel or lint-free cotton pad. You can also use an acetone-soaked pad, like the ones in our remover wraps, to wipe the brush clean. Let dry and replace the protective cap until next use.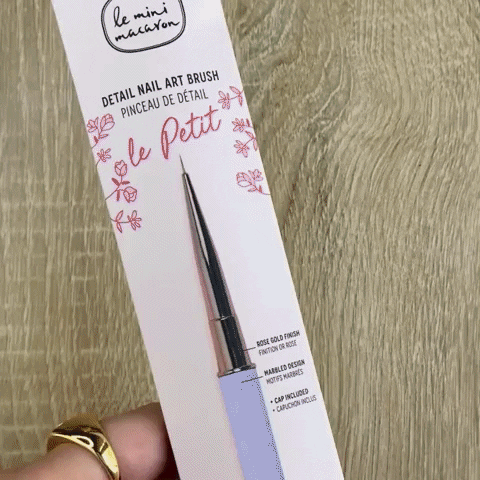 Pratico!
Utile e semplice da utilizzare
Pintar
Este pincel es maravilloso para que pintes tus uñitas con el diseño que quieras
Pincel fino
Un pincel realmente fino (por fin) que se diferencia bien de los que ya tenía. Deseando estrenarlo! Y más ahora, que se viene Halloween!
Molto utile
Ottimo per realizzare piccole decorazioni!
Totally worth it!
It exceeded my expectations, very cute, but mostly food quality! It is a must if you are a nail addict!