Le Round Brush
Create nail art at home like a pro! The right nail art brush makes all the difference. Our nail art brushes are easy to hold and control with high quality synthetic bristles for a smooth glide when creating designs.
Le Round Brush is perfect for color blocking, round French tips, flower petals or cuticle clean-up.
A short, soft nail brush to easily clean-up nail polish on the cuticles or to perfect nail designs. You can also use it to create chunky designs such as color blocks, round French tips and flower petals.
With an easy-grip handle featuring a gorgeous marble design.
Includes a protective cap. Clean brush thoroughly after each use.
DIMENSIONS: 22 x 4.4 x 1 cm
HOW TO USE:
For Designs: dip the brush into polish and gently apply pressure while stroking across nail to create wide strokes & desired design.
For Clean Up: dip the brush into acetone and gently wipe around cuticles removing any excess polish from cuticles before curing.
HOW TO CLEAN:
Dip the brush bristles in acetone or alcohol and swish for 10-20 seconds. Blot dry with a paper towel or lint-free cotton pad. You can also use an acetone-soaked pad, like the ones in our remover wraps, to wipe the brush clean. Let dry and replace the protective cap until next use.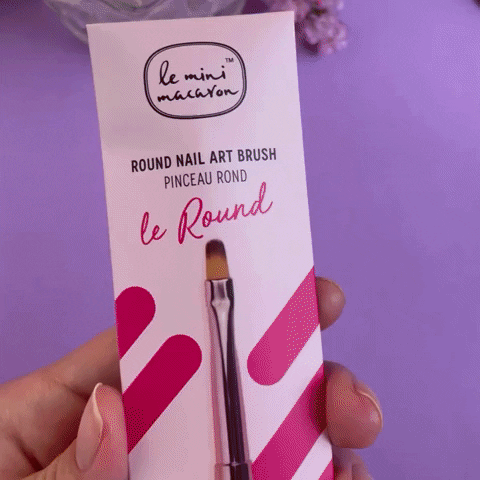 Sehr praktisch für die erste dünne Schicht!
Ich verwende den Pinsel für die Base-Schicht, damit wird die Schicht super dünn und man kommt mit den Pinselhaaren auch näher an die Haut! Das Auftragen ist damit leichter.
Spectacular brush!
Very nice brush for use when painting the nails to clean all extra gel polish! Its wonderful!
Prático
É muito prático este pincel. Tenho há pouco tempo e ara já uso apenas para limpar os cantos das unhas.
Pincel para limpiar
Tiene buena pinta para limpiar los bordes que se manchan, antes de curar
Preciosa y útil
Siempre me acabo saliendo de la uña, y gracias a este pincelito, cada vez llevo las uñas de manera casi profesional.